CityCenterDC Welcomes Summer with an Array of Local Art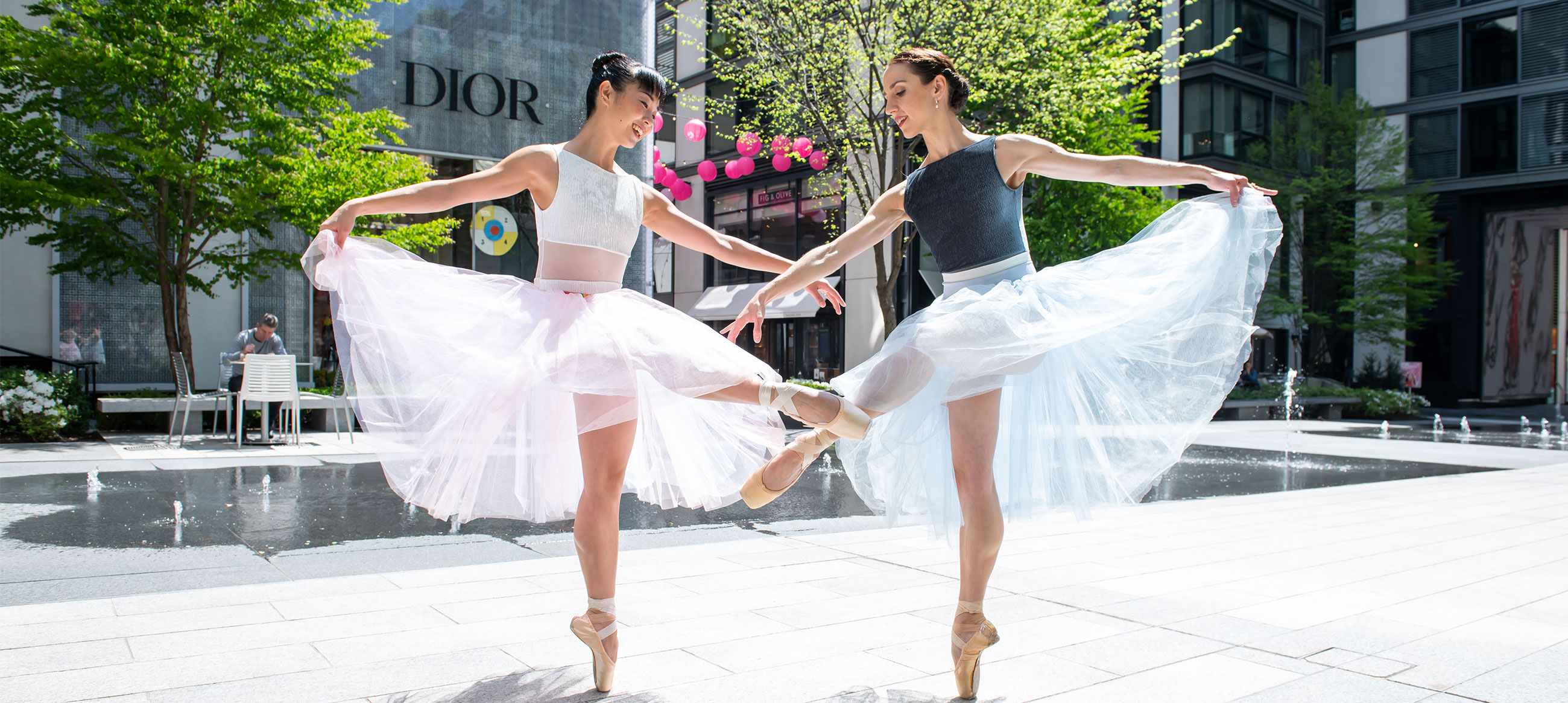 From ballet in the Plaza to transforming Palmer Alley to a Coneflower Canopy, summer is in sight at CityCenterDC.
---
WASHINGTON, DC (may 16, 2022)
CityCenterDC welcomes the warm weather by filling the plaza with a multitude of art and activities this summer. Dazzling local art experiences, performances from The Washington Ballet, a myriad of interactive experiences, and local returning favorites such as Lily's Flower Truck, BubbleWorks, and the Farmers Market await patrons and passers-by.
"Bringing public art to CityCenterDC is such an important piece of what we do," said Timothy R. Lowery, Director at Hines and the General Manager of CityCenterDC. "We are thrilled to have cultivated a space where art forms collide and special memories can be made."
---
WHAT
This summer, Palmer Alley will be transformed by the arrival of Coneflower Canopy, a stunning art piece created by local artist Phaan Howng and curated by Latela Curatorial for CityCenterDC. The coneflower is not only colorful but is native to the Washington, DC area. For local artist Howng, the Coneflower Canopy represents the need to prioritize the health of our earth to preserve our fragile ecosystem and the endangered and beautiful coneflowers. Howng's art was recently featured at the exhibits 'The Succession of Nature' at the Baltimore Museum of Art and in 'The Long Conversation' at the Smithsonian Arts and Industry Museum. In addition to her lush and vibrant oversized coneflowers, activities amongst the art installation will sprout up throughout the summer months.
Turning to another art form, as part of The Washington Ballet's Dance for All program–a series of free performances that pop up throughout the city–dancers will perform a show-stopping pas de deux and short, upbeat contemporary dance in the Plaza. Free to the public, the dances will be created by up-and-coming choreographers and performed by the world-class artists of The Washington Ballet. Admission is free and seating is first-come, first-served.
"The Washington Ballet loves performing at CityCenterDC! The Plaza is a wonderful setting for our dancers, in that it's colorful, welcoming, and bustling–exactly the kinds of positive, energetic vibes that bring out the best in our artists," said Julie Kent, Artistic Director of The Washington Ballet.
Moving from ballet to musical performances, the American Pops Orchestra (APO) will take the stage at CityCenterDC to perform Broadway hits with a modern twist. The APO, well known for reimagining American pop music through non-traditional orchestra settings, brings musicians and the community together at CityCenterDC this June.
This summer, the beloved bubble show from the one and only BubbleWorks returns to Washington, DC, exclusively at CityCenterDC. The immersive show in The Plaza at CityCenterDC will immerse you in a fantasy world of bubbles and lively music
Beginning in May, the Farmers Market is back in The Park at CityCenterDC with a variety of offerings from fresh produce to delicious offerings from local favorites Call Your Mother, DMV Empanadas, VegHeaven, and Timber Pizza Company, the market has a flavor for everyone. For floral lovers, stop by Sunnyside Flowers for a weekday bouquet at the Farmers Market. For fitness lovers, Toned Up Tuesdays return to CityCenterDC with CorePower Yoga – these 45-minute outdoor classes are free and open to the public.
Throughout the summer, visitors can create their own floral bouquets at Lily's Flower Truck in the Plaza. A portion of the proceeds from Lily's Flower Truck is donated to local animal shelters to help our furry friends.
---
WHEN
Coneflower Canopy
from June 13 until after Labor Day
The Washington Ballet's Dance for All Program
June 2, 3, and 4, 6 PM – 7 PM
American Pops Orchestra
June 16, 7:30 PM – 8:30 PM
Bubble Works
June 4 – July 7, Sunday – Thursday 1 PM – 7 PM, Friday – Saturday 1 PM – 8 PM (at the top of every hour)
Farmer's Market
Every Tuesday May – November, 11 AM – 2 PM
Toned Up Tuesdays
Every Tuesday in May, 6 PM – 6:45 PM
Lily's Flower Truck
Every Friday through Sunday, 12 PM – 5 PM
---
WHERE
825 10th St NW, Washington, DC 20001
---
For more information and updates on CityCenterDC retailers and restaurants please visit https://www.citycenterdc.com/. Follow @CityCenterDC on social.