CityCenterDC'S "Celebrating You" Campaign Wins 2022 Emmy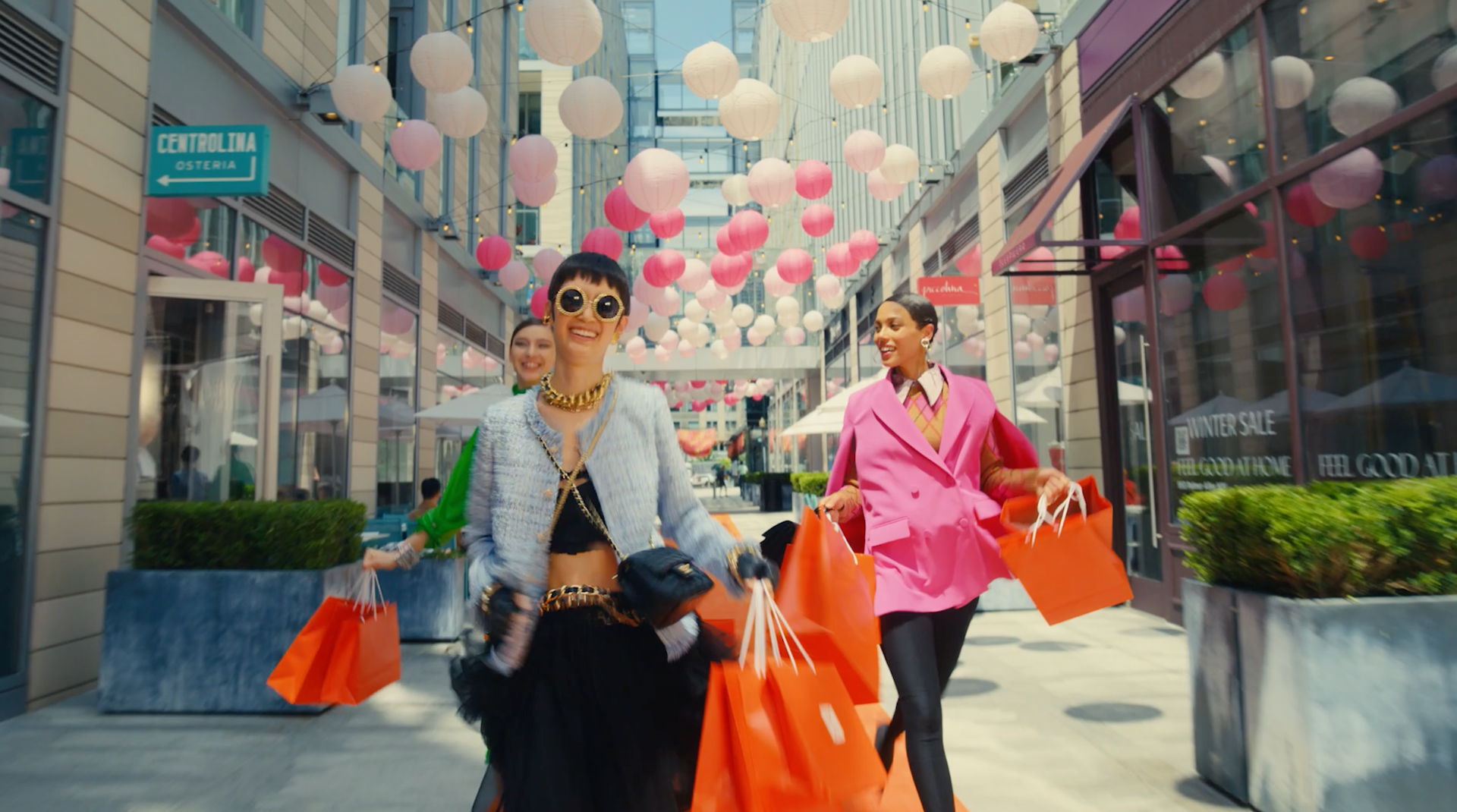 Hines and Design Army Take Home Third Emmy for another innovative commercial spot.
---
Washington, DC (June 29, 2023) – CityCenterDC is proud to announce that, on June 24, 2023, its "Celebrating You" broadcast commercial won an Emmy in the Commercial–Single Spot category at the Annual National Capital Emmy® Awards. Highlighting the euphoric feeling of truly celebrating yourself, the "Celebrating YOU" commercial beautifully depicted the next chapter in the mixed-use development's creative journey, encouraging audiences to celebrate the art of stylish individuality.
"We're thrilled that 'Celebrating YOU has been honored with such a distinguished award. CityCenterDC has long been a project dedicated to creating memorable and vibrant experiences in a city that celebrates everyone who visits, through history, architecture, sports, fashion, and of course food, much like CityCenterDC. This campaign allowed us to illustrate that style comes in many forms," said Timothy R. Lowery, general manager of CityCenterDC. "Whether it's bringing your family to explore the colorful displays in Palmer Alley, experiencing a luxury shopping and dining experience, or stopping by to enjoy a ballet performance or summer bubble shows, there is something for everyone at CityCenterDC."
The "Celebrating YOU" campaign marks the third time CityCenterDC has collaborated with the creative teams at Design Army and Dean Alexander Productions. The previous two Emmy Award-winning campaigns, "District of Joy" and "Find Your Joy", highlighted joyful experiences found throughout the mixed-use development and received accolades in 2018 and 2021.
"Style in DC is not solely about trends, it's about longevity and quality, and this campaign brings that to life," said Pum Lefebure, co-founder and chief creative officer of Design Army, the DC-based creative firm behind the campaign. "When creating 'Celebrating YOU' we wanted to highlight the euphoria that comes with truly celebrating yourself, whether through fashion, food, or fun, to life. Our goal was to showcase the many facets of the Washington, DC community, highlighting style through bold and unique colors that depict the city we know and love properly; we are thrilled by the way in which the campaign was received by the public and to see that vision come to life."
The campaign was produced by Dean Alexander. The below individuals and organizations made this campaign possible.
CityCenterDC: CityCenterDC
CityCenterDC General Manager and Executive Producer: Timothy R Lowery
CityCenterDC Director of Marketing: Melissa King
Creative Agency: DESIGN ARMY
Chief Creative Officer: Pum Lefebure
CEO: Jake Lefebure
Director and DP: Dean Alexander Photography
Director of Photography: Kyle Deitz
Editor: David Grossbach
Stylist: Christine de Lassus
Makeup: Dale Johnson
Set Design: Amaryllis Inc.
Modeling Agencies: THE Artist Agency, Muse Management NYC and WILHELMINA
Music Composer: Paul Hutson
About CityCenterDC:
CITYCENTERDC (www.citycenterdc.com) is a unique, pedestrian-friendly, 10-acre mixed-use development, located in the heart of downtown Washington, D.C. Developed by Hines and Qatari Diar, the project is home to more than 221,000 square feet of retail space, 520,000 square feet of prime office space, 458 rental apartment units and 216 condominium units, a 360 room hotel, a 1,550-space parking garage, a public park, a central plaza and pedestrian-oriented streets and alleyways. 
About Hines: 
Hines is a global real estate investment, development and property manager. The firm was founded by Gerald D. Hines in 1957 and now operates in 30 countries. We manage nearly $96B1 in high-performing assets across residential, logistics, retail, office, and mixed-use strategies. Our local teams serve 685 properties totaling nearly 216 million square feet globally. We are committed to a net zero carbon target by 2040 without buying offsets. To learn more about Hines, visit www.hines.com and follow @Hines on social media.
¹Includes both the global Hines organization and RIA AUM as of December 31, 2022
About Design Army:
From its Washington, D.C. headquarters, Design Army is making its mark on the world, while winning acclaim from clients and peers in the process. The multi-disciplinary brand and creative agency has forged alliances with industry leaders and connected with global audiences. Their projects range in size and scope for clients that span across industries – from hospitality to the arts and entertainment to consumer-packaged goods and retail. Clients include, The Academy Awards, Disney, CityCenterDC, The Broadway League, The Hay-Adams Hotel, Human Rights Campaign, Neenah Paper, The Ritz-Carlton, PepsiCo, Smithsonian Institute, University of Virginia, Washingtonian Magazine, and the Washington Ballet. Design Army has been featured in numerous online and print publications, including Adweek, Fastco, Huffington Post, Forbes and The Guardian. Additionally, Design Army has been recognized by the AIGA 365, ADDYs, CLIO Awards, London International Awards, ADC Global, the One Show, and EMMYs. To see their work please visit www.designarmy.com.