CityCenterDC 10TH ANNIVERSARY CELEBRATION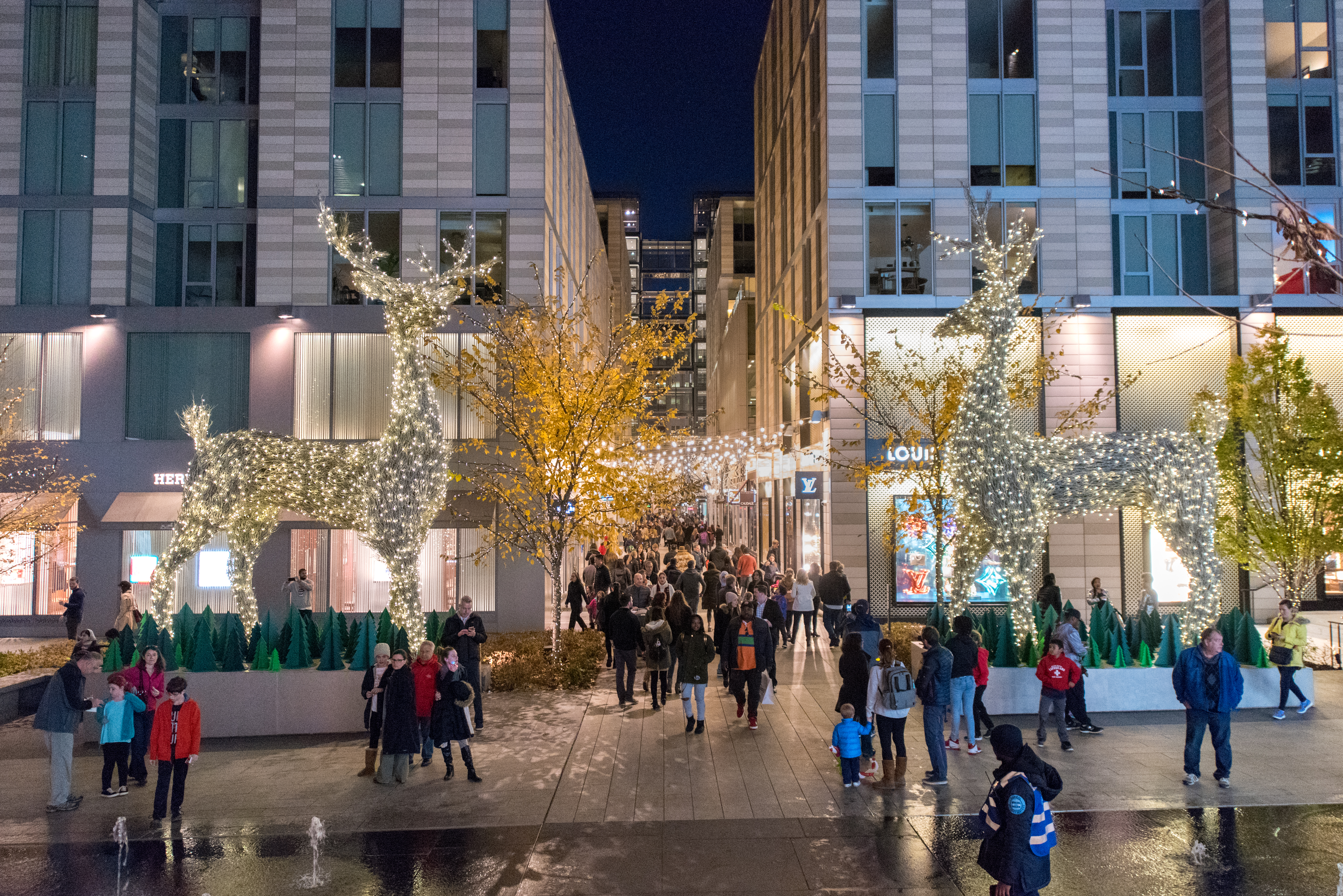 CityCenterDC Celebrates a Decade in Downtown DC With Annual Tree Lighting Tradition, Limited-Edition Ornament, and New Art Installation
Washington, DC – CityCenterDC is thrilled to announce the return of its highly anticipated Annual Holiday Tree Lighting celebration, which coincides with the landmark project's 10th anniversary, on Saturday, November 25th.
CityCenterDC is offering elevated moments and activities in honor of its 10th anniversary. In addition to its traditional tree lighting festivities, CityCenterDC will expand the live performance by The Revels and offer an evening full of fun surprises for the whole family. The holiday and 10th-anniversary festivities begin at 5:00 p.m. and the Tree Lighting celebration begins at 6:00 p.m. in The Park at CityCenter, on the corner of New York Avenue NW and 11th Street NW.
In honor of its 10th anniversary, CityCenterDC has created a commemorative handmade, limited-edition ornament available for purchase throughout the holiday season. The brass beaded ornament features a festive version of the CityCenterDC logo on the center's signature orange, and two prancing reindeer, which is a nod to the two 20-foot reindeer that grace the property each holiday season. All proceeds from the sale of the ornament, which retails for $50 plus shipping and handling, will go to Children's National Hospital. Each purchase of an ornament will help ensure that every child receives the exceptional, compassionate care they deserve when it is needed the most. Purchases can be made online at https://bit.ly/CCDC10YearOrnament.
"We are thrilled to kick off CityCenterDC's year long, 10th anniversary celebration with our dazzling Holiday Tree Lighting. When CityCenterDC opened a decade ago, it transformed the face of downtown DC, creating not only an epicenter for luxury in the heart of the District but a community gathering spot where we've created beloved traditions and seasonal excitement throughout the years," said Timothy Lowery, Vice President – Mixed-Use at Hines and General Manager of CityCenterDC. "It is our honor to spread joy to those in need by partnering once again with Children's National Hospital. Your ornament purchase will not only add a little extra beauty to your own tree but provide critical funds for young patients at Children's National."
Emceed by NBC4 Anchor Eun Yang, this year's 10th Annual Tree Lighting will feature an expanded and exciting program. In addition to the lighting of the 75-foot tree, The Revels will be back accompanied by a ten-piece band performing contemporary and classic renditions of holiday favorites, and the evening will wrap up with a sweet tooth lover's surprise. Visitors can still enjoy crowd favorites such as face painting, balloon animals, gourmet popcorn, cotton candy, and mini donuts.
To continue the holiday cheer throughout the season, CityCenterDC will debut Haute for the Holidays, a stunning tree installation in collaboration with Washington DC's beloved artists Maggie O'Neill, Annie Broderick, and No Kings Collective. Each artist will create an interpretation of a festive holiday tree. Visitors can expect a mesmerizing display of nine-foot trees in various materials, textures, colors, and artistic styles. Each step will reveal a fresh artistic surprise and perspective, inviting visitors to go on a holiday journey. Visitors are welcome to explore enchanting displays starting the first week of December until January 7th.
CityCenterDC's holiday tree lighting ceremony is free and open to the public and cameras are welcome. For interview requests and exclusive photos, please contact Camryn Hardy at TAA Public Relations at camryn@taapr.com.
For more information and updates on CityCenterDC retailers and restaurants, please visit https://www.citycenterdc.com/. Follow @CityCenterDC on social media.
---
About CityCenterDC
CITYCENTERDC (www.citycenterdc.com) is a unique, pedestrian-friendly, 10-acre mixed-use development, located in the heart of downtown Washington, D.C. Developed by Hines and Qatari Diar, the project is home to more than 221,000 square feet of retail space, 520,000 square feet of prime office space, 458 rental apartment units and 216 condominium units, a 360 room hotel, a 1,550-space parking garage, a public park, a central plaza and pedestrian-oriented streets and alleyways.
---
Media information:
TAA PR
Camryn Hardy
Camryn@taapr.com